Familiar with Lac de la Cabane in St. Adolphe d'Howard? It was during one of his regular father-daughter walks that real estate project designer Guylain Verdier spotted it from the summit of the Calvaire trail. After three long years of searching for the ideal lakeside lot to build a family home, the perfect spot had finally revealed itself!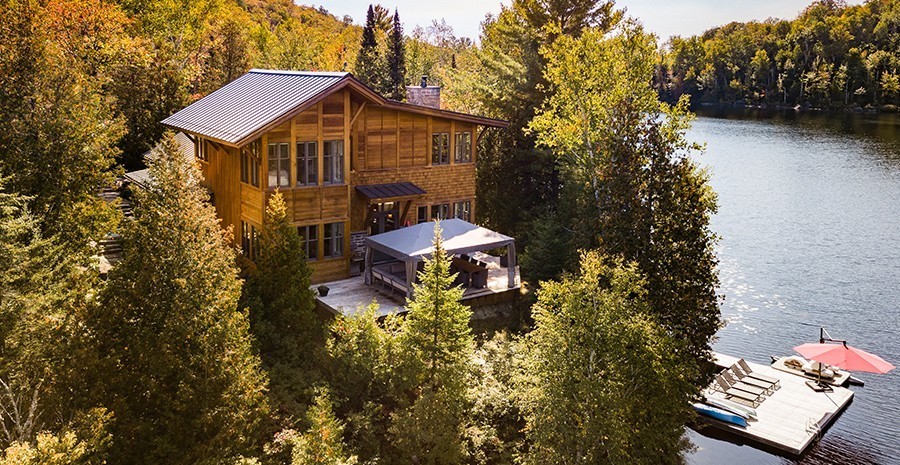 On the lake was the former hunting lodge of Henry Morgan, founder of Morgan's department store, now La Baie. Even better, the lodge was a mere 16 feet from the lake's edge – an incredible opportunity given that the current law in effect did not allow properties to be built within 82 feet of a lake. It was on the foundations of this lake-hugging hunting camp that Guylain Verdier had this spectacular property built.
This home-building project, initially envisioned for personal use, eventually transformed into a large upscale residential project –a first for our new buyer, who was much more accustomed to commercial projects. After zoning and developing roads came the lengthy task of creating a quality living environment. The estate was sold as a co-ownership; it currently has 12 houses.
A non-negligible added value of 421 chemin des Verdier is its rare tranquillity – no homes look onto each other. Neither from the sides, nor from the front. An extraordinary level of intimacy for those seeking rest and relaxation. It's also a wonderful story, which the family ultimately owes in part to their daughter, who was only 12 at the time.
Guylain Verdier's favourite room? The sauna. Just in case you need a double dose of R&R. Or a spa experience during the winter, all from the comfort of your own home.
Discover (or rediscover) this stunning family home here: https://www.realta.ca/en/proprietes/en-20504422/