REALTA: Major partner of the Festival de Casteliers
Spring break in Outremont means the return of the popular family-friendly puppet theatre festival, the Festival de Casteliers.  For the 8th consecutive year, REALTA is proud to be one of the festival's major partner.  As in past years, the facade of our Van Horne Street agency has been decorated for the Marionnettes en vitrines walkabout exhibition.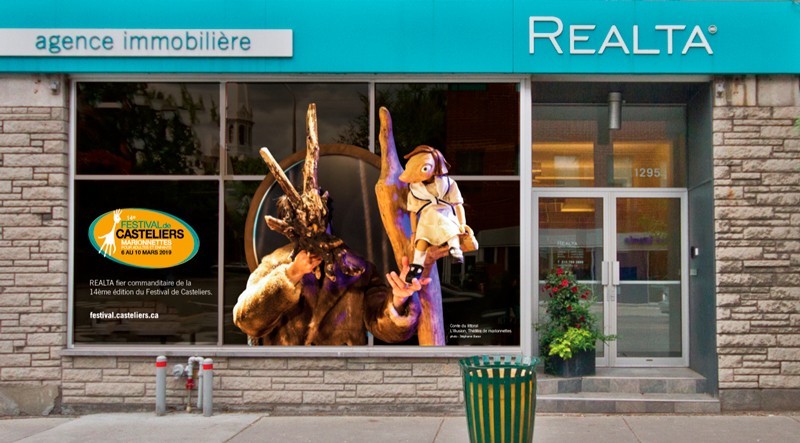 The 2019 edition, which runs from March 6 to 10, is particularly special to us.  In early February, we announced a promising international partnership with the French real estate groupe Patrice Besse.  As it turns out, this year's festival is putting France in the spotlight by hosting four theatre companies and several artists hailing from La France.  Fate sometimes works in wonderful ways! This year's program will also include the usual batch of puppeteers from the United States, Canada and Quebec.  For details: Festival de Casteliers.
And that's not all. The 2019 Festival de Casteliers will include an activity that truly warms my heart: the official inauguration of the MIAM-Maison international des arts de la marionnette.  Two years ago, I agreed to serve as chair for MIAM's board of directors and participated in its fundraising campaign alongside Louise Lapointe, the festival's executive and artistic director, and a dynamic group of volunteers.  Serving as chair was a natural extension of our association with the festival.  MIAM is located in a renovated building at 30-32 Saint-Just Avenue in Outremont, where it houses a fully equipped creative lab, a tool-making workshop, and multi-purpose space that's open to the community, along with various other specialized resources and expertise.  The festival's team also has its offices there.
For us at REALTA, these initiatives allow us to strengthen our community ties and contribute to building its reputation.  To be international, you have to start somewhere!
See more about this year's Festival de Casteliers
President,

François Bissonnette
---
---