Ninety-one-year-old globally renowned Quebec painter, René Gagnon has built an extraordinary estate that borders on the unreal. In 1969, he arrived at Anse-de-Roche in Sacré-Coeur, Quebec and instantly fell in love. "When I saw the place, I said to myself: 'I'm going to die here,'" he says.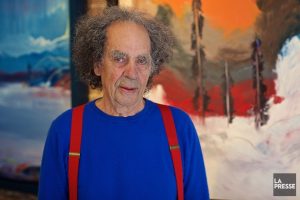 The original 700-acre lot was untouched at the time. No trails, no houses, nothing. Just pristine forest with enchanting views of the Saguenay Fjord. With his keen artistic eye that knows how bring the region's majestic colours to life in his paintings, René also saw the possibilities of this place that time forgot.
He had arrived with just a backpack, some colored pencils and few sheets of paper. But René decided he was staying for good. He and his wife Claire-Hélène Hovington set to work on building a home that grew and evolved over time.
"All the money we made from the sale of my paintings was invested back in the home here on the estate. We bought a small sawmill, cut our own wood and built the estate using stones from the mountain it sits on," says the man who shaped the estate with his own hands. The couple weathered a few years of living without electricity before paying for the luxury out of their own pockets.
And now the result of their lifetime's work is up for sale. Rather than simply leaving behind a lovely home on a stunning parcel of land, they are bequeathing its future buyer a totally unique lifestyle. René dreams of leaving just as he arrived, with only a backpack and his brushes, allowing everything else to remain in place to feed the region's cultural heritage.
Imagine living just as the artist did, with the sights and sounds of belugas as a backdrop, watching the fjord transform across the seasons, travelling by snowmobile and simply letting nature nurture you on a daily basis.
The 350 acres offered for sale include the main residence with swimming pool, an artist studio, an exhibition gallery, a garage, a hunting lodge, three watchtowers for observing nature, and 14 km of logging roads suitable for vehicular traffic. Plenty to keep boredom at bay!
And as a bonus? Living with exceptionally inspiring neighbours. The couple are retaining a portion of the estate to build a new home.
As keen admirers of René Gagnon's life, career and oeuvre, François Bissonnette and his team are particularly proud of this unique collaboration. Having René's trust in the sale of this estate so dear to his heart is precious to us, and we are truly grateful.
Explore all the photos of this magnificent estate on the property page.