BACKGROUND
Did you know that at this very moment, a construction team is hard at work at 7137-7141 Christophe Colomb on what promises to be an unprecedented project? Tanya has spent the last 20 years working as a construction contractor, developing projects for buildings that are "in need of love". She has a knack for transforming these buildings into stunning modern creations. Tanya's not just about looks, though. She and her team deconstruct in order to better rebuild.
When REALTA's president François Bissonnette came across this 1923 quintuplex, he recommended it to Tanya. And she immediately saw its potential. So she decided to purchase it and give it a new life before putting it up for sale with the REALTA team.
THE BUILDING

The quintuplex is currently being converted into four condos, each with a spacious footprint.
The top floor was Tanya's main source of inspiration when she decided to buy the building. It was originally divided into two units, but she saw a golden opportunity to create a single large apartment with a huge asset: it leads directly to a magnificent rooftop terrace with breathtaking views of Mont-Royal on the horizon.
This 1,308-square-foot apartment has three bedrooms and a private parking space.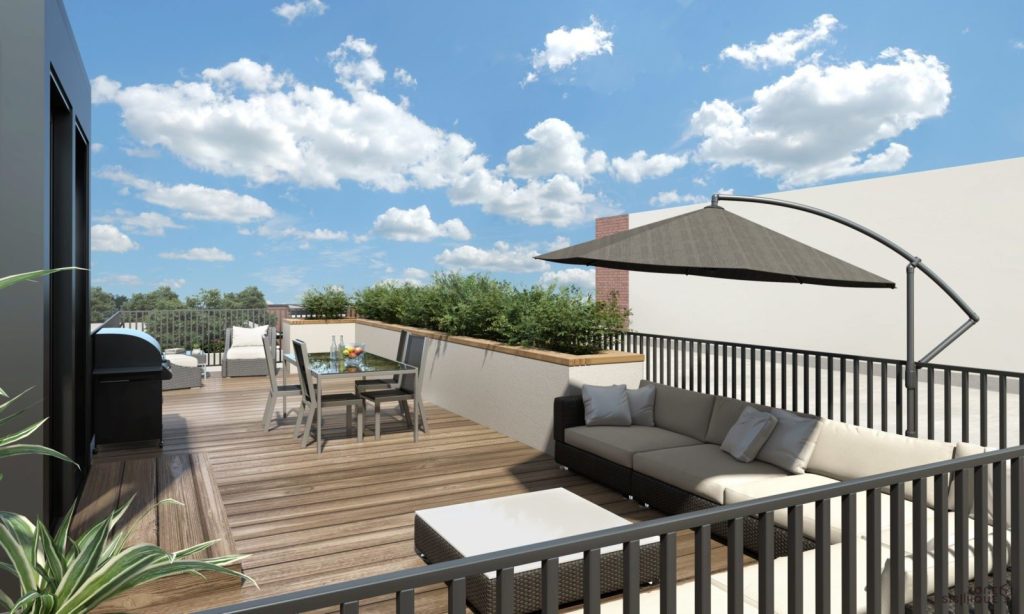 The 1,470 ground-floor condo also offers three bedrooms and parking space, but with a large backyard for enjoying year round.
The two second-floor units each have 620 square feet; both with a charming private terrace. The ideal first home purchase in the heart of one of Montreal's trendiest neighbourhoods!
All units have been soundproofed and insulated to the latest standards and are equipped with air conditioning and air exchangers. Each one has been renovated in a modern and upscale architectural style.
THE NEIGHBOURHOOD
The building borders La Petite-Patrie and Villeray, close to the beautiful Jean-Talon market and metro station – a trendy area that's rapidly evolving.
With Little Italy and Rue de Castelnau just a stone's throw away, there are plenty of restaurants, cafés, bakeries and shops nearby to keep foodies more than happy. No worries – or lack of options – for planning those last-minute weekend brunches! Rather picnic? The many nearby parks will gladly welcome you with open arms.
Everything an urban lifestyle should be, all in a lively and authentic neighbourhood.
See the property listings here:
7141 (ground floor) : https://www.realta.ca/en/proprietes/en-16309906/
7139 (2nd  floor) : https://www.realta.ca/en/proprietes/en-12362298/
7137 (2nd floor) : https://www.realta.ca/en/proprietes/en-13783639/
7137A (top floor) : https://www.realta.ca/en/proprietes/en-10146484/