After reaching an all-time low[1] a few months after the start of the pandemic, it was only to be expected that mortgage rates would rise again. Now, it is not containment risks that worry the Bank of Canada, but inflation, which has suddenly reached a 30-year high[2].
As a result, the Bank of Canada has no choice but to raise its policy rate, and it is not a simple normalization, but rather a shock treatment. After cumulative increases of 0.75 percentage points in March and April, most economists are now anticipating further increases in the range of 1.25 percentage points by year-end. And there may be more next year.
Many are concerned about the impact of these interest rate hikes on the housing market. Is this exceptionally long real estate cycle (there has not been a price decrease in Quebec since 1996) coming to an end? Some say that the "famous" real estate bubble will burst soon, while others speak of a real estate market that is drifting apart. But REALTA disagrees, and here's why.
---
[1] For the first time in history, it was possible to obtain a mortgage for a 5-year term at a rate below 2%.
[2] In March, the Consumer Price Index in Canada rose at an annual rate of 6.7%, the largest increase since January 1991.
A tepid shower for the demand
It is clear that rising interest rates will cool demand, especially among first-time buyers, who are necessarily the most sensitive to borrowing conditions. With prices having exploded over the past two years[3] (see chart), affordability in Quebec is already close to its worst level in 31 years.
On the other hand, there are still households ready to buy now but who, in the current context of overbidding, have not yet managed to make a deal or are waiting for the overheating to subside.
All in all, the number of sales is expected to drop by 14 per cent this year and another 5 per cent next year.
---
[3] The 2021 increase was the largest on record since realtors have been compiling the data.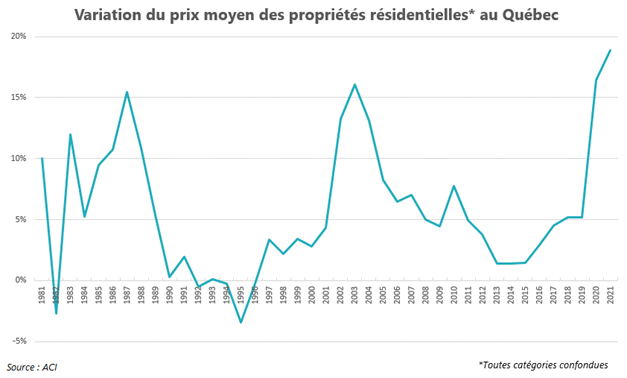 But a minor impact on the offer
There is a severe shortage of properties for sale in Quebec right now. And although the increase in mortgage rates will undoubtedly increase supply, the effect will, in our opinion, be quite limited.
First, it is important to understand that the Bank of Canada's key rate primarily influences variable mortgage rates, which are usually the choice of borrowers who are able to deal with potential rate increases.
Secondly, it is not the majority of borrowers who will see their monthly mortgage payments increase, far from it. Remember that the vast majority of borrowers choose five-year terms. For example, most of those whose terms end this year or next year took out their loans in 2017 and 2018, respectively, at average rates of 2.8% and 3.4%. Even if these borrowers were to renew their mortgages at a fixed rate approaching 5%[4], the increase in monthly payments should be manageable for the vast majority of them, especially given the "resistence test"[5].
This resistence test implies that borrowers qualified at a rate that was at least two percentage points higher than the actual rate obtained. It was precisely to simulate a possible increase in interest rates that stress tests were originally introduced.
In fact, to predict the number of households that would be forced to sell because they would no longer be able to meet their mortgage payments, there is normally much more to fear from a decline in employment. It is not even certain that the Bank of Canada's rate hike will cause a recession and, if it does, the job market could prove resilient in a context where there is already a shortage of labour.
In short, at REALTA we believe that the number of properties for sale is unlikely to increase significantly.
---
[4] Five-year mortgage rates are primarily influenced by yields on government bonds of the same maturity, which are themselves heavily influenced by inflation expectations. The rise in 5-year rates began well before the Bank of Canada's key interest rate, which reduces the magnitude of the increases that could occur.
[5] Financial institutions require the borrower to prove that he or she can afford to repay the payments at a qualifying interest rate that is generally higher than the actual rate charged. For this purpose, the financial institution must use the higher of (1) the Bank of Canada's qualifying rate or (2) the interest rate negotiated with the lender plus two percentage points.
A market that will remain in favor of sellers
The listing-to-sale ratio, which determines the balance of power between buyers and sellers, is so low right now that even with a more tempered demand, market conditions will not tip in favor of buyers. Thus, we believe it is unlikely that we will see widespread price declines in the short term. On the contrary, REALTA is forecasting price increases of around 5% in 2023, which is still a relatively steady pace. The table below summarizes our forecast for this year and the coming year.

Folding without breaking
In conclusion, at REALTA we feel it is premature to announce any drift in the real estate market. The rise in interest rates will only cool down an overheated market. Market conditions will undoubtedly be more balanced, without, however, reversing the balance of power between buyers and sellers. And, above all, prices will not "crash".