2020 – A Historic Year for Real Estate in Quebec!

By the end of the year, the province of Quebec should hit a new record for real estate: between 120,000 and 130,000 properties sold – an increase of over 20% versus last year. How has Outremont fared? Come December 31st, our beautiful area will have closed around 166 real estate transactions. That's an increase of 6% over 2019, which was already a record year!
Where are all these property sales coming from?
Despite the mandatory stop during the COVID lockdown and a notable drop in GDP, the pandemic has been a boom to the real estate industry. Quebec homes have been selling like hotcakes.
One of the key factors that positively affected real estate and drove up the sales of second homes (2020 was a record year in the Laurentians and Estrie), was the shift in family expenses – notably vacation budgets.
Another key factor that made 2020 such a spectacular year for real estate was the growing desire for a larger property. This side effect of the pandemic has greatly amped up urban sprawl, leading to skyrocketing home sales in Montérégie, Laval and the lower Laurentians.
What are the trends for Outremont for single-family home category ?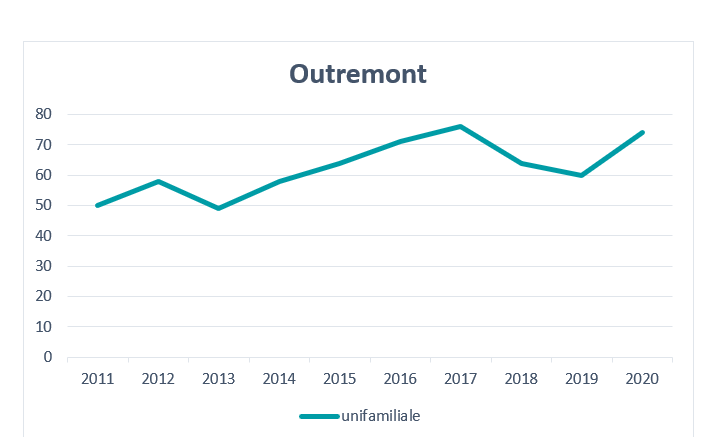 The key figures in the Outremont single-family home category for 2020 are:
Around 75 homes sold
Homes selling in 70 days on average
Average selling price of $2,050,000 – up 15%
Median price of $1,935,000 – up 23%
Recently, we have been seeing two big trends in the single-family home category: properties being listed at the right asking price and properties being listed for too much.
In the first group, 45 of the 75 homes were sold at the right price. They sold at:
101% of the asking price on average
In 19 days on average
For the second group (too-high asking price), these homes sold at:
90% of the asking price on average
In 185 days on average
For 2021, we expect sales of single-family homes to level off at around 65 transactions in Outremont – a drop of 15% versus our record year of 2020.
The challenge of setting the right asking price
Despite 2020 being an exceptional year for real estate, setting the right asking price continues to be a determining factor in the selling process. Listing your home at the right price will attract serious buyers and help you compete against other comparable homes on the market. It's important to understand that the asking price is not necessarily the best or highest price, but the one that will position you advantageously against other homes. The initial price is rarely the final selling price and there are several strategies available to you. What category do you want to fall into when it's time to sell your home?
Come talk to us!
With 25 years of experience in property valuation, François Bissonnette can help you sell your home the smart way. Since founding REALTA in 2008, the average home listed with us has sold at 98% of the asking price. That ranks us among the top real estate agencies in Montreal. Our brokers have in-depth knowledge of the entire Montreal real estate market, including for each individual neighbourhood. We leave nothing to chance when it comes to pricing your home. We carefully analyze comparable real estate statistics by neighbourhood and by street.