Since June 10, 2022, waves of change have been sweeping through the real estate industry. Brokerage purchase contracts, provisions regarding dual representation, and fair treatment have raised questions, concerns, and even discontent within the real estate community. These uncertainties are further intensified by impending new regulations that will apply more specifically to real estate teams.
This discontent primarily arises from a lack of understanding of the concepts of dual representation and fair treatment, as well as the subtle boundary that separates them. It is essential for brokers not only to master these legal concepts but also to integrate them in a way that leverages them to evolve their business model.
Both teams and independent brokers must reinvent themselves, not only because the OACIQ (Organisme d'autoréglementation du courtage immobilier du Québec) is imposing new practices, but mainly due to changing consumer preferences.
The QPAREB (Quebec Professional Association of Real Estate Brokers) compiles real estate sales statistics for all brokers in Quebec. These data also provide crucial insights into evolving property purchase behaviors. One particular statistic reveals a significant trend: buyers are increasingly less likely to approach listing brokers directly to be represented by a cooperating broker. This substantial trend is undeniable and has intensified over the past two years. Since 2013, the percentage of buyers represented by a broker from another agency or banner has increased by over 16%, reaching 64% of all transactions.
In simpler terms, consumers are demanding more transparency and active representation during a transaction. This trend has grown by 4% over the past two years and appears to be accelerating. If this evolution continues, in 9 years or less, 100% of transactions will involve two brokers (the listing agent and the cooperating agent).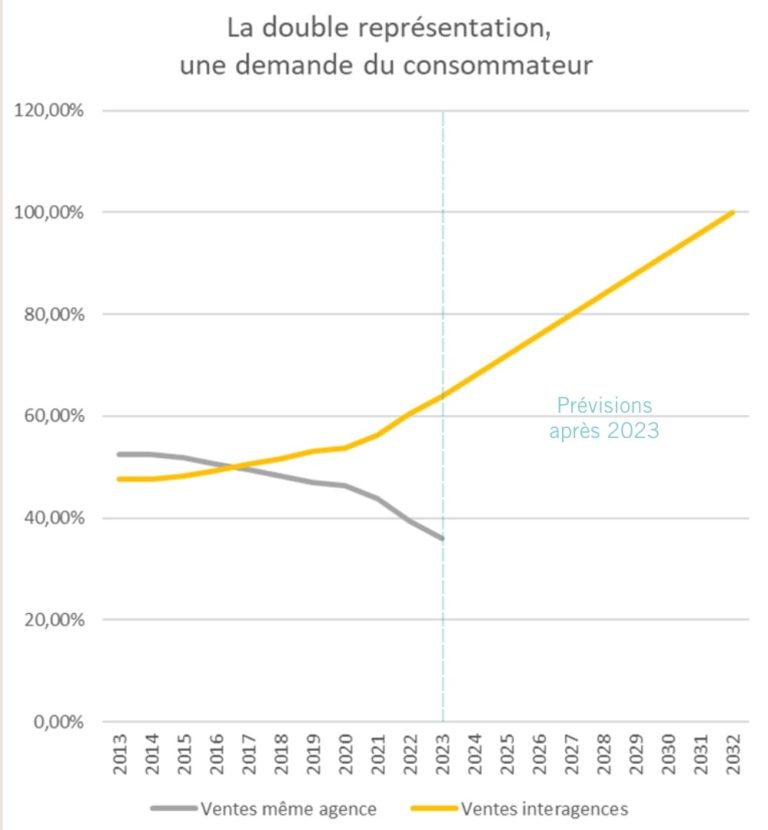 It's not only the OACIQ regulations, but above all, changes in consumer tendencies that will influence the future of successful business models in our industry.
If you're a broker eager to adapt to the reality of new markets, seeking in-depth expertise regarding dual representation, fair treatment, as well as sales strategies and clauses to transparently communicate these important concepts to buyers while fulfilling your legal obligations, we invite you to contact us today.
"Collaboration is a much better option!" It's a question of values!
Insight from François Bissonnette, President and Founder, AD Certified Real Estate Broker